Events
Please find event listings below. For more information please contact the named contact or the Khanqah.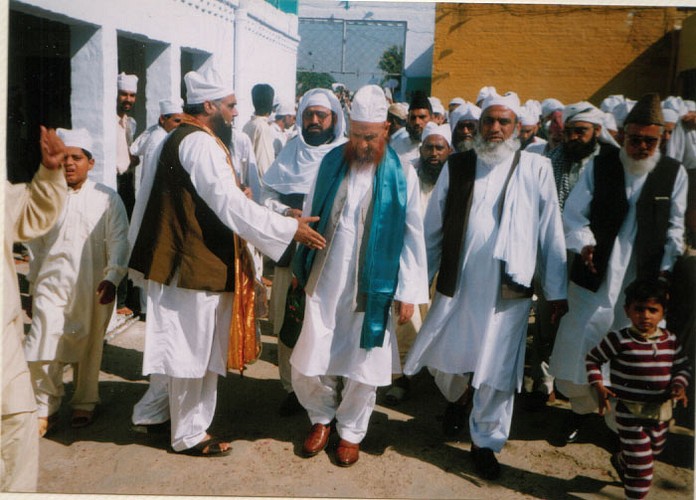 Above: (1997) Hazrat Khwajah Pir Sufi Mohammed Aslam Sahib

attending the Urs of
Zareen-Zarbakht Hazrat Khwajah Sufi Nawaab-uddin Sahib

at Darbar Mohry Sharif, Punjab, Pakistan.
Annual Urs in Pakistan
The Annual Urs Mubarak and Milad un-Nabi Celebrations take place circa 12th April every year at Darbaar-Aalia Naqshbandiyya Mujaddidiyya Aslamiyya Shadpur Shareef.
Events in the United Kingdom 2013
DATE
LOCATION
CONTACT
Sunday 27th Jan 2013
Makkah Masjid, Bolton
Sufi Mushtaq Hussain Aslami
Sunday 3rd Feb 2013
Jamia Masjid Khazra, Butterbiggins Road,
Glasgow, G42 7AF
N

aqshbandiyya Aslamiyyah Glasgow:

07709139742

Sunday 10th Feb 2013
Naqshbandia Nawabbia Centre, Brodesley Green Road, Birmingham
Khwajah Pir Sufi Zafar Iqbal Alvi
Sunday 3rd Mar 2013
Bradford (BD3)
Sufi Muhammad Akram Sb Aslami
Sunday 12th May 2013
Jamia Masjid Naqshbandia Aslamia, 63 Tile Street, Bradford, BD8 8NX
Sufi Muhammad Aslam Sb Aslami
Sunday 19th May 2013
Jamia Masjid Ghousia,
2-12 Westbourne Rad, Luton LU4 8JD
Naqshbandiyya Aslamiyyah Luton: 07957468391
Sunday 26th May 2013

Peterborough

Sufi Muhammad Yusuf Sb Aslami
Sunday 2nd June 2013
Walsall
Sufi Muhammad Javed Sb Aslami
Sunday 9th June 2013
Keighley
Sufi Abdur Rasheed Sb Aslami
Sunday 30th June 2013
Leeds
Sufi Arshad Mahmood Sb Aslami
Sunday 18th Aug 2013
Markazi Darbaar Shareef, Blackburn
Naqshbandiyya Aslamiyya Spiritual Centre
Sunday 1st Sep 2013
Easton Jamia Masjid, St. Marks Road, Easton, Bristol, BS5 6JH
Sufi Syed Waheed Shah Sb Aslami
Sunday 15th Sep 2013
Jamia Masjid Gulshan-e-Baghdad, 1-7 Westbourne Road, Bedford

MK40 4LB

Naqshbandiyya Aslamiyya Bedford
Weekly Events in UK
Details of weekly gatherings of zikr can be found below. If you would like to add your circle to this list please contact us
Blackburn
Mehfil-e-Zikr at Markazi Darbaar Shareef, Naqshbandiyya Aslamiyya Spiritual Centre every Sunday after Zuhr (see flyer below). Contact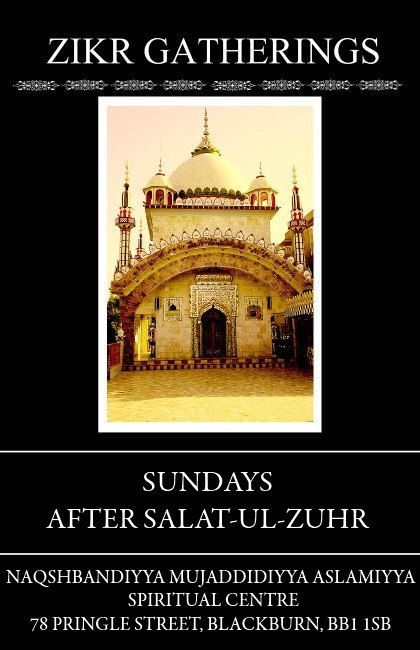 Luton
Mehfil-e-Zikr at the Luton Khanqah every Saturday evening at 5pm. On occasion the timing of the Mehfil is subject to change. Contact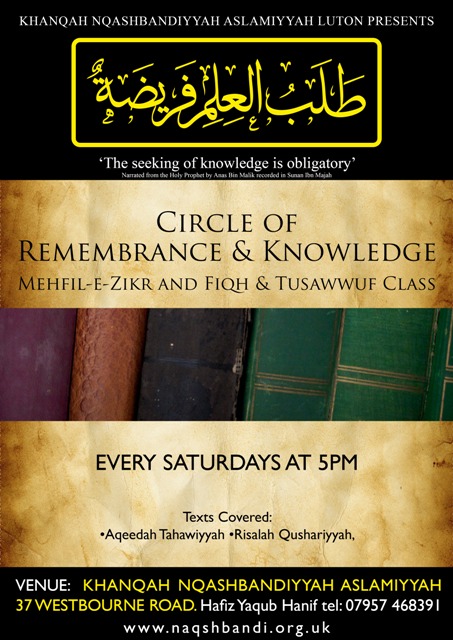 Mehfil-e-Zikr at the Sufi Dr. Ruhul Amin's house every Thursday evening at 7.15pm. Contact
Birmingham
Mehfil-e-Zikr every Sunday evening at 103 Prince Albert Street, Bordesley Green, Birmingham, B9 5AH. For more information please contact Qari Sufi Shaqeel Hanif Aslami on 07809 623370.